Owen Sharma is a major character in The Haunting Of Bly Manor. He is the resident chef at Bly Manor and the romantic interest of Hannah Grose. His time at Bly is split between caring for his ill-fated mother and preparing meals for the Wingrave children.
Biography
[
]
Early History
[
]
Little is known about Owen's early history, other than the information he revealed in his interview to Hannah. At some point, Owen studied in Paris under famous chefs, hoping to learn more about cooking; this was difficult for Owen, however, as he was largely restricted to cutting vegetables rather than learning how to cook.
After Owen's mother fell ill, Owen returned to Bly, where he applied for a job at Bly Manor. He worked there for around 3 years when Dani Clayton started working there.
Relationship with Hannah
[
]
Although Owen's time was split between caring for his mother at night and cooking for those at Bly Manor during the day, Owen forms a close relationship with Hannah Grose. Eventually after the death of his mother, a drunken Owen asks Hannah to leave Bly with him and travel to Paris once more. Hannah wanted to take the offer, but found herself unable to due to her position and situation at the manor.
After Hannah's revelation, Owen is heartbroken, but finds some solace when she is released from Bly Manor thanks to Dani. Owen begins taking up Hannah's mantle lighting the candles at Bly, but his heart aches for Hannah once more. He does eventually leave Bly, however, and becomes a successful chef; he keeps in touch with the Wingrave children throughout their life.
Personality
[
]
Owen is a quick-witted man. He likes to make food related puns.
Relationships
[
]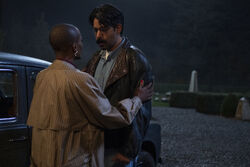 Owen had a close relationship with Hannah, but the two never got the chance to become romantic. The two flirted regularly, however, and during one drunken night after his mother's death, Owen asks Hannah to leave Bly Manor with him and travel to Paris. Hannah wishes to accept but finds herself unable to, given her position. Later in life, Dani and Jamie meet with Owen to toast to Hannah's memory — it is clear, however, that Owen's heart still aches at the memory of Hannah.
Gallery
[
]
Quotes
[
]
Trivia
[
]
He briefly takes up Hannah's candle lighting job at Bly following her Death[1]
References
[
]