Spider-Man: No Way Home Trailer Dropped - The Loop
Play Sound
Danielle "Dani" Clayton is the main protagonist in The Haunting Of Bly Manor. She is an American teacher who moves to London and is the current Governess of Bly Manor; by extension, she is the pseudo-parent and teacher to the Wingrave children, Miles and Flora.
Biography
[
]
Early History
[
]
Dani admits to Miles that although her mother is still alive, she lost her father around the age of 10, and that her mother became absent because of it. In addition, right before she moved to London and began her job as the Governess of Bly Manor, Dani originally worked as a fourth grade school teacher in America.
Prior to 1987, she became engaged to her childhood best friend and sweetheart, Edmund O'Mara. During a dinner in which Edmund prompted her about the wedding planning, Dani admits that she does not want to get married. After leaving the restaurant and entering the car, she explains that she can not marry him because she doesn't want to get married due to her being a lesbian. In his anger, he stepped out of the vehicle, into the path of an oncoming truck that darkened his face and features but illuminated his glasses. Because of this, Dani saw his dying moments as her fault, and as such envisioned a dark Edmund with lit glasses in any mirror she saw. It was this that caused her to leave the United States in the search for something more, on the day she was set to leave for England she was given Edmund's glasses by his mother.
Life At and After Bly Manor:
[
]
Shortly after arriving in London, Dani saw Henry Wingrave's request for a live-in Governess for his orphaned niece and nephew, Miles and Flora Wingrave. After seeing the ad listing available for the next 6 months, she eventually applied for and received the position at Bly Manor. Originally, she seemed impressed by the children's manners and charms, and started to know the help around the house, such as the cook Owen Sharma, housekeeper Hannah Grose, and gardener Jamie. However, after the children lock her inside of a closet, she begins to take notice of just how strange their actions could be.
After learning the backstory of their previous nanny, Miss Rebecca Jessel, she learns of how coddled both Miles and Flora could be. She does continue to bond with the children, but gives out punishments as necessary, which upsets the children but provides benefit for the adults of the Manor. After a confused and stunned Miles passes out during a storm, she sees the face of Peter Quint, a thief to the Wingrave family, in the window. After calling the police, she is informed through Hannah and a photo inside of Charlotte Wingrave's, the mother of the two children, jewelry box, that he was the lover of Miss Jessel and a thief who was considered missing nearly six months prior.
Eventually, Dani is encountered with the spirit of Viola Lloyd, angered at the misfortunes she suffered in Bly nearly four centuries prior, and takes Flora into the lake back underwater. Dani saves her by uttering the words, "It's you, it's me, it's us", which allows Viola to pass into Dani's body, allowing for any spirits who died on Bly's premises following Viola's death to ascend. She later marries Jamie, and continues to be happy, until her realization that Viola still lives inside of her, and in turn she leaves Jamie to protect her. Outraged (at Viola's spirit, not Dani), Jamie enters Bly Manor for the first time in years and the last time, and views Dani's body in the position of Viola's signifying that Dani is no more, and has broken all of the curse that Viola placed upon herself.
Personality
[
]
Dani is a very sweet and compassionate woman, but can be stern to Miles and Flora when she sees fit. She is also very emotional, as seen in her constant envisioning of Edmund due to her belief that she was the cause of his death.
Dani is primarily seen as being extremely selfless and empathetic throughout the series. She abandons her own independence to nurture promising futures for the Wingrave children. She abandons her tranquil life with Jamie and commits suicide to protect her. Her ultimate selfless act is allowing Viola to enter her body and consciousness in order to save Flora Wingrave, this decision ultimately costing her her life.
Appearance
Dani has long blonde hair and light grey blue eyes. Once possessed by Viola, her left eye becomes brown. When she drowns herself in the lake, her eyes return to blue.
Relationships
[
]
Jamie
[
]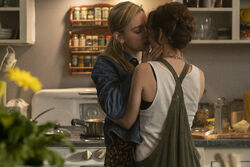 Dani becomes close with Jamie quite soon after her arrival at Bly Manor. Despite having their reserves, Dani makes a move towards Jamie, and the two eventually start a relationship together. Despite this, there are challenges. Jamie is aware that Dani's past, but she does what she can to make her feel good and comfortable; Jamie eventually becomes Dani's first — as far as we are aware — girlfriend. The two eventually leave Bly Manor together and marry.
After Dani's death, she continues to watch Jamie at all times. She does not, however, make this known to Jamie, who believes that Dani has abandoned her despite this not being true.
Quotes
[
]
Dani: "Your parents loved you so, so much that, in a way, they'll always be here."

Dani (to Miles): "The kids like us, like you and me and Flora, we're special. We grow up faster than other kids. And even more special, we really get to choose the grown-ups that we keep in our life."
Trivia
[
]
Although it is never confirmed in the series, it is widely accepted among The Haunting of Bly Manor fans that Dani's mother's name is Karen Clayton.
Dani is also said to be from Iowa, although it's never confirmed in the show.
Her favorite color is purple.
She is deceptively assertive which the viewer is reminded of throughout the series, beginning with her confrontation of Henry Wingrave in the bar.